---
"I highly recommend the Spike-a Bahtinov mask for all astrophotography systems that use electronic imaging systems. The mask is simple to use and users will quickly fall in love with the speed and focusing accuracy produced by the Spike-a Bahtinov mask. Every astrophotographer should have one."

- Robert Reeves, author of "Introduction to Digital Astrophotography" in Astrophoto Insight magazine, February/March 2009
Read Craig Stark's review from Astronomy Technology Today:
A Masterfully Executed Bahtinov Mask
reprinted with permission.
---

"Tired of Wasting Time Focusing When You Could Be Imaging?"
Let's face it. Achieving a good focus for astrophotography is a boring waste of time. Wouldn't you rather be spending your time choosing your objects and creating great images? With a Spike-a Bahtinov Mask, you can.
How does it work?
Set up your telescope and imaging equipment as normal. Then simply locate a bright star (maybe Spica?) with your telescope, attach the Spike-a Bahtinov mask to your telescope and watch the diffraction spike pattern around the star as you adjust the focus. When the middle diffraction spike is centered in the outer spikes, you're in focus. Very little focusing travel is required to move the inner diffraction spike, which means the focus is extremely accurate.

Seeing conditions will not significantly affect the diffraction spike pattern, which means the Spike-a is even useful for visual work.
A Better Focusing Mask

Unlike a Hartmann Mask which provides no visual cues on the direction of travel needed for focusing, the Spike-a mask is a Bahtinov mask which clearly shows the direction of travel needed to achieve focus. Also, a Hartmann mask doesn't provide the precision of the Spike-a. The pattern displayed in a Hartmann just gets slightly more in focus, which means the true focus may be off by a significant degree. The Spike-a mask shows you exactly where the perfect focus point is every time, regardless of seeing conditions. This unique design also allows more light gathering than a Hartmann mask allowing you to focus on a much dimmer star.
Save Time AND Money

Don't spend hundreds of dollars on a focusing solution which only works with one type of camera, or even more for a complicated computerized focusing solution. All of our masks cost less than $100.
Extra Precision

In recent years, software has been developed to allow sub-pixel accuracy when using a Bahtinov Mask. Two programs which offer software-based Bahtinov assistance are Niels Noordhoek's Bathinov Grabber and APT by Ivaylo Stoynov.
Quality Materials and Workmanship

The Spike-a Bahtinov mask is made from quality light weight aluminum and machined with precision tools, then anodized black to eliminate light reflection. The Spike-a attaches securely to your scope using nylon screws to ensure the finish of your telescope is protected. The Spike-a mask will last you for a lifetime of imaging.


Hear what our customers are saying

"Just used a Spike-a mask for the first time...WOW ! This is what I've been waiting for...perfect focus in one minute through 8nm Ha filter...made my night! Pavel Bahtinov deserves a medal...and our sincere thanks"
-L. Hilborn, Ontario Canada
"Just used my Spike-a Mask last night and could not believe how effective it is. This mask is a must have accessory for anyone, either visual or an imager. I am impressed."
-D. Singer, OR
"I took some images of M33 and the Flaming Star Nebula (IC-405) with my Orion Starshoot Pro CCD camera through my Televue 102iis refractor. I used the small mask to achieve focus, and it was very easy to use and produced great results. Thanks for the great product!"
-M. Borman, IN
Tired of Bloated Stars? Order Your Spike-aTM Bahtinov Mask Today!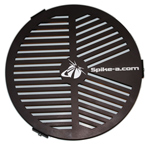 Note that orders will be processed by All-Pro Software, LLC. Contact information:

All-Pro Software
2935 S Fish Hatchery Rd #130
Fitchburg, WI 53711
spike-a@allprosoftware.com